---
Home * News * Concerts * Facts * Posters * Articles * Will Sheff Solo * Jonathan Meiburg Solo *

---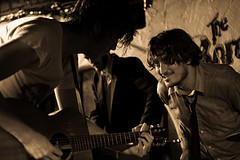 PopMatters
DTO will not be implicit in its adulation of the review of the Pop Lie single written by our favorite music critic, Christel Loar; its imagery rivals, if not supercedes, the source itself. May 2009.





The Guardian
This short review is worth reading. Although the British newspaper gives The Stand Ins four stars, there is no mollycoddling of the band here. October 10, 2008.

The New York Sun
It seems the reviewer, against his own will, is one of the "ever-growing mass of minions." September 9, 2008.

The New York Times
Kelefa Sanneh, one of Okkervil River's earliest champions, may have left the Times, but John Pareles is more than ready to step in. September 8, 2008.

PopMatters
Okkervil River's songs are sad stories full of characters who are heart-wrenching train wrecks. Why do we keep coming back for more? For, the literary run-on sentences, of course!. September 8, 2008.

The Boston Phoenix
The Phoenix couldn't hate this album much more than they do. I don't think I've ever heard anyone accuse Sheff of "poor intelligence" before. September 2, 2008.





SF Weekly
I'd call The Stage Names transcendent too. Of course, I'd probably come off sounding precious or pretentious. September 2007.

The Houston Chronicle
Sheff's cinematic and dreamy songwriting earns four out of four stars. August 10, 2007.

It's Not The Band I Hate, It's Their Fans
The Stage Names commandeers another CD player. August 8, 2007.

The Stranger
The verbiage has always been this dense. Apparently, so has this reviewer. August 1, 2007.

Contact Music
A Concept within a concept (and a review within parentheses). 7/10. August 2007.





Prefix
Were these tracks afterthoughts? Were they redundant? Whatever they were, they are an enhancement of the Black Sheep Boy experience. 8/10. January 3, 2006.

Punk News
An undeniable call to action that says, "You must own this album!" December 20, 2005.





Erasing Clouds
Dreamy, descriptive deference. December 2004.

Dusted
A band in between, it seems. May 15, 2005.




The Austin Chronicle
Acknowledges that Okkervil River are confident and riveting innovators. Four stars. September 12, 2003.

Space City Rock
This reviewer highlights "The War Criminal Rises and Speaks" and "It End With a Fall," and theorizes that Will's lyrics must make sense to someone. 2004.





Space City Rock
An excellent meditation on the dangers implied in the album title. 2002.





The Austin Chronicle
Grave robbing with Princes and Swans. Three out of five small stars. December 3,1999.

Musikkguiden Groove
A Danish review gives four grooves. Also critiques Don't Fall In Love With Everyone You See. March 6, 2003.